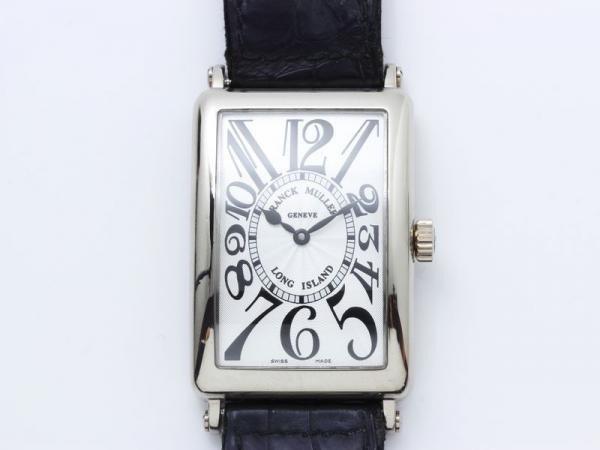 Frank Muller, montre or gris, vente aux enchères mercredi 18 décembre 2019
FRANCK MULLER ''LONG ISLAND N° 868''
Montre bracelet d'homme en or gris 750 millièmes, boîte rectangulaire curvex, cadran argenté guilloché rayonnant avec chiffres arabes peints stylisés, chemin de fer pour les minutes. Mouvement automatique signé.

FRANCK MULLER ''LONG ISLAND N° 868'' Men's wristwatch in 750-thousandths white gold, rectangular curvex case, silvered radiant guilloché dial with stylised painted Arabic numerals, railway for minutes. Signed automatic movement. Used leather strap with 750-thousandths white gold buckle, signed. (slight scratches) Gross weight: 90 g. Dimension: 43 x 30.5 mm. (without handles)
Si vous souhaitez vendre une montre Franck Muller, la première étape est l'expertise puis l'estimation et enfin la vente, qui pourra ainsi se réaliser sans aucun problème pour l'acheteur. Notre équipe d'experts se tient à votre disposition pour vous conseiller dans le cheminement de ces différentes étapes. Nous pouvons vous communiquer dans un premier temps une pré-expertise et une estimation en ligne.

Retrouvez nos autres articles sur les montres Franck Muller : Montre "Long Island" - Montre or gris